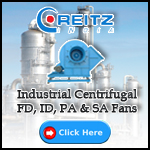 Design principles are to be followed by every manufacturer in order to have a standardized output for a given part of the mechanical system. When
design principles are ascertained, it will be easy for every user to deal with different systems manufactured by different business units. These standard design principles are considered based on the best performance of the system.
Blade Angles
The blade angles are used to determine the velocity of the fresh air that is taken in or the amount of exhaust gases that is being sent out.
There are mainly two kinds of blade angles in the fans. They are blade inlet angle and blade outlet angle.
If a fan has series of vanes mounted on the same shaft then there will be relative velocity between the two vanes.
Then the amount of flow rate will be different in both the vanes. So, we define other blade angles for the relative velocity.
We calculate the velocity by drawing the velocity triangles for the fans to determine the flow rates.
Blade angles also help to find the discharge of flow rate, axial thrust applied on the shaft, work output of the fan etc.
Air and gases flow rate
The main purpose of considering this category is to determine the capacity a draft system.
This is determined by the aid of either using blade angles or a standard equipment.
It helps to give the standard values of the velocity for a given system.
The draft system is also tested based upon the amount of the air flow.
So, the air flow rate becomes an important criteria for design of the system.
The air flow rate at a given velocity of the system must be same for every manufacturer.
Material Selection
As the system is a supplementary system in an industry, it must be of low cost to the organization and must be made of good materials.
So, the different parts of the draft system are made of different materials.
The vanes of the system are made of stainless steel or alloys of aluminium.
The outer casing of the draft system is made of mild steel or gray cast iron.
The other parts in the system includes temporary and permanent joints in which temporary joints must be selected of
desired density in order to reduce the problems of unbalance.
If the given required material is of either higher or lower density than the required density, then it causes vibrations in the system.
The standard design principles increase the efficiency of the system. The design principles are also responsible for the universal representation of a part or a system.