Atlanta is the most populous city in the U.S State of Georgia. The city is the major business place and the primary transportation hub of the Southeastern United States. Atlanta is the seventh most visited city in the United States of America with an estimated tourist population of about 35 million visitors per year. There are many ancient and modern tourist locations in Atlanta, some of them are:

1. Georgia Aquarium
Among the tourist places, Atlanta's premier tourist attraction is the Georgia Aquarium, the largest aquarium in the world. It is located in downtown Atlanta, just north of Centennial Olympic park. Georgia aquarium contains more than 8.5 million-US-gallon of fresh and marine water that gives life for more than 1,20,000 animals of 500 different species. The top most species that are rarely found in other areas are 4 young whale sharks, 4 beluga whales, 11 bottle nose dolphins, 3 great hammerhead sharks and 4 mantra rays.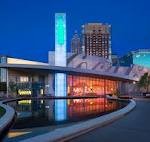 2. World of Coca Cola
World of Coca Cola is an exhibition center that exhibits the history of the Coca-Cola company. It also acts as a host of entertainment areas and attractions. It is located in Atlanta at Pemberton. The new world of Coca Cola was opened recently on May 24, 2007 replacing the original world of Coca Cola which was adjacent to Underground Atlanta. This new world of coke consists of two levels that display the history of the company – lower (lobby with different types of coca cola bottles, interactive exhibit, milestones of refreshment, happiness factory, etc.) and upper levels (displays 4-D films, Perfect Pauses Theater, Coca cola store, etc.). The World of Coca-Cola welcomes each year, over 1 million guests from various states. These Guests are offered by 64 sample products.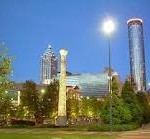 3. Centennial Olympic Park
It is a public park located in downtown Atlanta, owned and operated by the Georgia World Congress Center Authority. This park was built by Atlanta Committee for the Olympic games. The park attracts millions of visitors every year and several events such as popular music concert, annual Independence Day Concert and fireworks are generally conducted.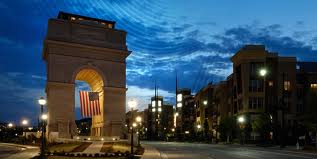 4. The Millennium Gate
The Millennium Gate is a triumphal arch and museum located in Atlanta in the district of Midtown. As of 2011, it is the largest classical monument that was built to commemorate all peaceful accomplishment since the birth of Jesus Christ, in the year of Lord. The museum features traditional and interactive high-tech exhibits that consist of 18th, 19th 20th and 21st century galleries and provides Oval Lawn for weddings, conferences, and other events through booking. The Millennium Gate's exhibits are open to the public on Monday to Friday between 10:00-4:00 and on weekends by appointment. It is closed on all national holidays.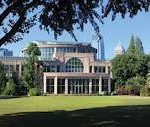 5. Atlanta Botanical Garden
The Atlanta Botanical Garden is a collection of plants for the purpose of display, education, research, conservation and enjoyment. It is located adjacent to Piedmont park in Midtown Atlanta. Near the entrance there are formal gardens such as Japanese garden and rose garden with two-woodland areas that feature large trees and shade-loving flowers. The Children's Garden features fountains, whimsical sculptures and interpretive exhibitions on botany, nutrition and ecology.
6. Piedmont Park
Piedmont park is an urban park in Atlanta located between Midtown and Virginia Highland neighborhoods. Recently on April 12, 2011, the first phase of park is opened which includes areas like "Two oval-shaped plazas – The Greensward" and "The Promenade", that contains the interactive legacy fountain, the lower meadow, a vastly expanded dog park, six springs wetlands. It had attracted 20,000 visitors on the first day of opening. There are many outdoor activities conducted such as sports, fishing, etc.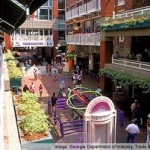 7. Underground Atlanta
Underground Atlanta is a shopping as well as entertainment center located in downtown Atlanta. It is a home to retail stores, restaurants, and nightclubs. For every New Year celebration, there is a grand peach drop event that occurs in Underground Atlanta, in which a giant Foam Peach slowly drops from a tower that follows fireworks during the final minute of the year.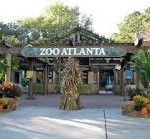 8. Zoo Atlanta
Zoo Atlanta is an Association of Zoos and Aquariums, which is the oldest zoological park in the United States. It consists of over 1,300 animals of about 220 species. It is a home to nation's largest collections of Orangutans and Gorillas. This is one out of 4 zoos across U.S currently attracting visitors due to the giant Pandas. Zoo is open 363 days a year, closing only on Christmas and Thanksgiving day.
All the tourist locations in Atlanta are worth watching. You can hardly skip any of these attractions, as these spots are unique and can be hardly found out elsewhere. Hence, the next time you plan for a vacation in Atlanta, see to it that you have a long one.