With many Mexican cuisines, you may get confused. However, you should taste the popular spicy chicken enchiladas. If you wish to prepare it on you own then proceed to read to know the ingredients and the method of preparation.
Required Ingredients
2 cups tomato sauce
1/4 teaspoon oregano
1 tablespoon chilli powder
1/4 teaspoon garlic powder
1/4 teaspoon cumin
1/4 teaspoon salt
Half a yellow onion that is finely chopped
2 1/2 cups of Mexican cheese
2 or 3 small breasts of chicken that are boiled and shredded
8 burrito size tortilla shells
Half a large green bell pepper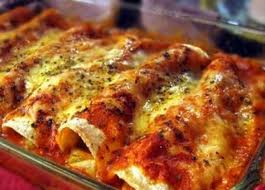 Mix tomato sauce, oregano, chilli powder, garlic powder, cumin, and salt in a sauce-pan. Heat the mixture for 10 minutes on a medium-low heat. Keep it aside. Now mix the pepper, onion, cheese, and chicken in a large bowl. Place certain amount of the mixture onto the heated tortilla.
The tortilla is then rolled properly and placed in a shallow baking dish. You should ensure that the dish is greased with non-stick cooking spray. Now coat the tortillas with the mixture prepared initially. Then the entire tortillas are again coated with sauce. You can also sprinkle cheese on their top. Now they are ready to be baked for 25-30 minutes at 350 degrees. The dish is simple and delicious when you add toppings of salsa and sour cream. You can serve it with Spanish beans and rice for a full meal.