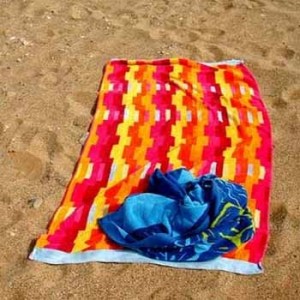 Beach towels are available in different types. It is an important accessory for people who want to spend time by walking in the sandy coasts of the sea with their friends, family. A beach towel is useful in many ways such as it helps you dry after you go for a swim, cover yourself if it's very cold. Before buying a beach towel, there are certain attributes to check for. They are:
Size: The first and foremost thing is to measure your body size. You can easily purchase a towel that is right for you, you may not be at risk in buying a towel which is too small or too big for your body.
Material type: Beach towels are made of cotton, polyester and several blends. Select a high quality fabric material that ensures long life, makes you comfortable and suits your skin. A thicker towel will have more level of absorbency.
Design, Patterns and colors: Beach towels are available in many styles and patterns. Choose one which is durable and comfortable. It is better to opt for dark colors because light colors may get stained soon. You can also match the color with the style or pattern.
Affordable Price: Know your price range and buy a beach towel that is worth your money. Price may be an indicator of the quality.
Choose an appropriate beach towel by considering the above points. Select carefully and take time , if needed, to examine all the essential qualities of a beach towel.