Wedding are the special occasions and every one tries to make a mark by dressing accordingly. Same thing applies to the children dressing for a wedding and it is better to know what the child wants to wear for these types of special occasions. Children dressing for a wedding also depends on the type of the wedding.
Dresses For Girls:
Pastel Silk Dresses:
Pastel shades work best for weddings, especially if it has a winter or summer theme to it. The colors which are suited for the guest wedding dresses are green pistachio, baby pink and sky blue. These dresses have ribbons on one side of the dress or have little cascading roses that surround either the waist below or hemline.
Mini Tube Black Dress with Netted Shrug:
This dress is simple one with a little frill work to surround the edges in a descending swirl. These types of dresses also work best as kids dresses for a wedding.
Single Strapped Gown:
It is also known as halter dress. These have lot of complex work on the front, and have a simple low back design on the back. Suitable colors for these types of dresses are yolk yellow, blood red, emerald green, amethyst and turquoise.
For boys: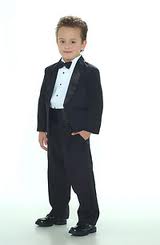 Suit With Bow Tie:
Select a nice two piece suit, complete with a bow tie that fits snugly at the center of child's collar. A black suit with a white crisp shirt and a black or white bow tie always works best.
Three Piece Suit:
It is better to wear a formal shirt and a smart vest with a tie tucked in neatly, draped down below the waist, with a smart cut of formal pants and a jacket. Gray and black colors works best when paired with white, and accentuating the outfit with a colorful tie.
Low Buttoned Suit With Skinny Tie:
It consists of a jacket that buttons down at the torso and it is opened at the chest with tapering lapels, it has a skinny tie at the center. It holds in style, and keeps up with the modern day suit that most kids would love to wear, especially to a wedding.
Of the many age groups present at the wedding, kids are the main attractions and with the right and pleasant look, these kids will definitely stand out.