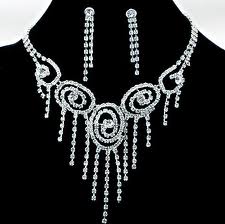 Most of the women like jewelry shopping. Even though it is difficult for them to choose which is best and which is not, many women waste much money to buy jewelry, ending up not matching for their body. To make your wedding jewelry shopping smart, here are few tips that helps to choose perfect jewelry for your wedding.
Before going to the jewelry shop you need to learn some things about the jewelry. Like if you are buying gold then know caret and if it is diamond then know about the cut, clarity, color and carat weight. Here cut is shape of cutting, clarity refers to quantity, size and nature of diamond, color is the diamond color. Most of the diamonds are colorless. Carat weight is measurement of diamond.
To know the information there are many sources. In the past days there were only few sources, but in present days you have plenty of options both offline and online. If you go through internet there will be many sites that give information about such kind of details.
Do the shopping with your friends and family. They may help in your selection part.
Do the shopping by going through many shops, do not commit for a particular shop. Compare the prices in different shops then you will get best jewelry in your budget.
If you want any information about the items you should ask the salesperson.
While buying wedding necklace you should consider the style of the gown neck.
The theme and color of wedding are key factors you need to consider while purchasing jewelry. Because some jewelry items can not fit for few styles of dress. If they fit color of the gown have great impact on color of jewelry.
The important part is being together with the one you marry and celebrate your love as you go to the next phase in life, which is your marriage.