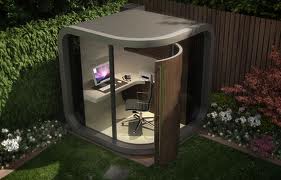 Today it has become a necessity for many people to work from home. Having a home office is associated with many problems. In order to avoid them, a garden office can be constructed at your home. A garden office provides an ample space for an office where you can work solely. A combination of stylish design, ease of access, and peaceful atmosphere of a garden office makes it preferable for many people to opt for adding a home office in their garden. Here are some benefits of using a garden office.
It saves your expenses of traveling to your office at greater distance. You can also save much time that you spend in traffic. In stead you can talk to your family members and then go for work.
It allows much freedom.
It provides a serene atmosphere. All the distractions from home such as barking dogs, shouting children, and so on can be avoided by using a garden office. So you can concentrate more on your work.
Artificial lighting especially fluorescent lighting at home causes headache. A garden office provides ample natural lighting instead of harsh lighting found in homes. Its large windows and glass doors bring much illumination to the building. Hence, it is better to use a garden office.
Mostly one and sometimes two rooms are essential for a garden office. There is no need to add extra furnishings such as a bed, television, and so on.
You can use a garden office for all seasons. As it has effective insulation, you can breathe in the summer and retain heat in cooler months.
Thus, a garden office is much eco-friendly that increases the value of your property. So when you plan for a home improvement project this year, prefer building a home office in your garden.