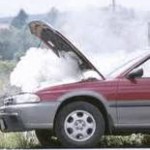 Sometimes, your car engine may get overheated. There are different reasons for engine over heating. But, main reason is that your vehicle does not have enough engine coolant to avoid the overheat of the engine. There are some instructions to keep away the engine from overheating. Such as:
First turn off the engine, if engine of the vehicle overheats.
If air condition is in on mode then switch off and roll down the windows of the car.
If you feel hood is very hot then wait until hood become cool then open it.
You should not touch the engine or open the radiator cap until engine becomes complete cool.
It may take from 45 minutes to one hour for cooling. When radiator is hot, if you open the cap of it then it can cause bodily injury.
You can touch the engine when it has cooled down completely, then coolant reservoir can be checked, this coolant is like plastic jug. And then you open the radiator cap slowly, then you can examine the radiator. And you look inside,check the coolant level, you can fill the top of the radiator with coolant or water or both, if there is no coolant in the radiator.
Now replace the radiator cap and check all the hoses. Make sure that there is no leak and nothing is busted.
Then you can start the car and temperature gauges can be checked on the dash. You need to turn off the engine if the needle moves to red zone. You can wait for few minutes and after wards you can switch on the engine again.
If there is no service station or coolant then you stop the engine and wait for some time until engine gets cool and start again.