Energy recovery ventilators provide ventilation minimizing energy loss at your home. In winter, they reduce the costs of heating the ventilated air by transferring heat from the warm inside air to fresh supply air. In the same way in summer, the cool air inside the room transfers the coolness to warmer supply air to minimize the cooling costs.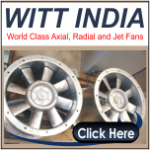 Energy-recovery ventilation systems are of two types. They are heat-recovery ventilators (HRVs) and energy-recovery ventilators (ERVs). The main difference between is the way the heat exchange works. An energy-recovery ventilator transfers a certain amount of water vapor along with heat. A heat-recovery ventilator transfers heat only.
Energy-recovery ventilators are very useful in summers or in typically hot climates, where it controls humidity in the house by transferring some of the water vapor outside. Energy recovery ventilators can almost recover about 70 to 80 percent of the energy from the air moving out and deliver that energy to the air coming in. Energy-recovery ventilators are generally preferred over heat-recovery in regions where air conditioners are used.
You may also like to read:
Air Pollution and its Effects
Benefits of Running for American Cancer Society
Cost of Living and its Variations
Home Automation For Disabled People
The Age of Enlightenment
The Mighty Industrial Revolution at a Glimpse